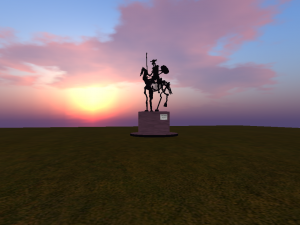 Friday I sat down with Fred, Sharon, and Joe for the first meeting of the Second Life Richmond island Zoning Board.  Despite the Gartner Group putting virtual worlds into the Trough of Disillusionment in 2008, we're getting more interest on our campus.  In addition to Sharon and Joe, faculty in Business and Psychology are in world with classes.
Joe has always been an advocate.  He was there when we owned a parcel on the mainland (every now and then I visit the old landmark – it's currently a furniture sky mall). He brought his class in world in the fall of 2006, and was one of our biggest reasons for moving to a private estate.
Sharon has been involved too, from participating in NITLE events to recent work starting a Global Studio on the island.  Sharon has been particularly good at encouraging our Second Life to be free of the conventions of our First Life.  We don't need more brick buildings, though having some visual cues connecting our virtual space to the campus is nice.
We met to discuss the future of our island.  Things have grown organically, and all of us agreed that we could do it better if we started from scratch.  So what's coming?  We see the need for five kinds of spaces at Richmond:
Orientation space: A landing zone for the island, with information on what's there and how to find it.
Sandbox spaces: A place where anyone associated with the University of Richmond can test, play, create. We plan on making several spaces available vertically so individuals or groups can work in a specific space if they don't want to work in the general sandbox at ground level.
Project spaces: When classes or other projects want an ongoing space, we'll have several. At the ground level will be projects that are expected to persist. This might include Sharon's Global Studio, and our 3D version of the Voting America project, which will be restarting this term with help from students in our Technology Learning Center. Term-based projects will be up in the sky, and can be as big or little as the projects require.
Showcase spaces: For presentation of research, or as archives of the best work done in classes, we'll have space for work to be preserved and shared. One example will be posters from our Arts & Sciences Symposium, held each April. We'll also link in to videos that students have created for Symposium.
Meeting spaces: We need a variety of environments for groups to meet and collaborate. This will include an amphitheater for large groups, but also smaller spaces for work groups. I think we'll have many opportunities for thinking differently about space for these environments.
It will take some time for us to reconfigure the island, but some things are already beginning.  The group has agreed to meet regularly to fine-tune our use of our virtual space.