I spent some time this weekend going through Second Life.  Most of the time I stay on the NMC Campus, but it's quiet most of the time and after a while I'm looking for something to do.  So this weekend I visited several other places in Second Life.  The most interesting was Info Island.  The librarians have run amok!
It's an entire island of libraries.  And they've got a second island on the way.  I started outside the main library. 

I was impressed that even in the cyber world librarians take pains to help us all fulfill our civic duties.  They had signs you could click on to connect to each state's voter registration web site.
Inside the main library they've got audio books.  They call them Audio Navigators. 
Everything is arranged by author.  When you select the text you want to hear, your web browser loads an MP3 file of someone reading the text to you.

And the audio files are yours to keep.  I listened to "Taming the Bicycle" by Mark Twain – it played in my web browser while I kept Second Life going up front.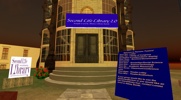 They have a tower with information for many disciplines.  Some of the floors aren't finished yet, but they're linking to useful web sites from each discipline's floor.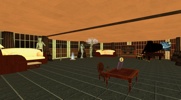 This is the first floor of the tower.  There's a transporter you use to teleport to the other floors.  I missed that the first time I visited – I was looking for stairs.  But the transporter works well, complete with Star Trek sound effects.  The top floor is a theatre you can use for presentations.  There's also a very nice classroom.  NMC may want to look at that for their campus.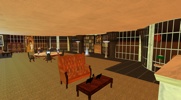 My favorite room in the tower was the Humanities room.  The circular desk in the center links to some good web sites, and there's even a cabinet containing maps you can have.  But the look of the room is almost as important as the things you can access, and I think I'll be spending some time on this floor of the tower.
NMC's Teacher's Buzz is going to be visiting the Thompson NETg campus tomorrow.  I've been there and it's an interesting place.  They've got some casual spaces for you to relax while you're listening to or watching their training materials.  But the environment that's been created on Info Island is what I'd like to to see NMC consider.  Maybe the Teacher's Buzz can arrange a field trip there too.
Technorati Tags: nmc2006, library, Second Life